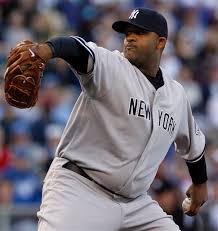 This was the biggest game of the season for the Yankees. Had we lost, the Red Sox would only be 5 games out in the loss column and they would have momentum. But we took 2 out of 3, have a 7.5 game lead and are looking pretty good to win the AL East.
CC Sabathia is worth every penny the Yankees paid him. He was a MAN tonight. He may not have had his best stuff, but he battled and got big outs. Watch the Yankees over the next month to limit his work. He threw 118 pitches tonight, but since we won and now have the cushion, I'll best he doesn't pitch over a 100 pitch limit much the rest of the way. Last year, he was throwing big games on short rest as the season came to an end, and he got shelled in the playoffs. Yanks will want him to be fresh and will limit his innings, just as they are doing with Joba.
Beating Josh Beckett always feels good. Five home runs against Beckett is a big deal.
I think one of the big things that happened this weekend is A-rod's hitting. Some big hits on Friday - in fact, a couple of home runs in most parks. Then, tonight, after the Evils got a run on a terrible play by Cano to get back to 5-3, A-rod went deep for a 7-3 lead. We need A-rod hitting. This weekend, he didn't just hit, he got BIG hits.
It's weird with A-rod. He's having his worst season as a Yankee, and yet I think he is being accepted more this year than in previous years. First of all, fans can see that he is working hard with an injury that is slowing him down. The hip injury is hurting him, but he keeps playing through it. Plus, the Yankees are just plain having fun - and you can see it with A-rod. I think he is more human this year. Anyway, he will likely finish with the worst stats since he was a rookie, certainly his worst as a Yankee. Yet, somehow, he seems more like "one of us" this year.
Of course, if he bats .135 in the playoffs, all bets are off.
Dennis Gallagher told me tonight at church that I am a pessimist. He's right. But somehow, I just had this feeling that this game tonight really mattered. With the Yankees and the Red Sox, mindset matters. Early in the season, the Evils were feeling it. Recently, the Good Guys have had the edge. Even though we would have still had a big lead, I was afraid that if we lost tonight, especially if we got shelled again, the momentum could shift back to the dark side.
I have one question for Terry Francona, who coaches the Sox. Why on earth did David Ortiz sit out? Sure, Sabathia is tough, but Ortiz has been knocking the cover off the ball for the last couple of weeks. Is he tired? Hurt? He has hit lefties in the past. How does Francona keep him on the bench?
Stupid Terry. Good for the good guys.
Phil Hughes looked great. Mariano was on. He seems to have righted the ship. The rest he has gotten recently has been good for him. He walked the first guy he faced, but then he shut them down pretty hard.
Its a good day to be a Yankee.
Now, what really matters. We need to start cheering that either Tampa Bay or Texas gets hot and that the Sox go back into a funk. Honestly, this could be a tough team in the playoffs. Better that they don't even get there. Go Rays. Go Texas (except this week in New York).
And, just for fun, let's note that Smoltz looked really good in San Diego today. After the Yankees bombed him, the Sox released him and he went to St. Louis. I just think its funny that he goes to St. Louis and gets the win. Priceless.
So, now its back to Yankee stadium. Good to be home. But the 10 game road trip was all we could hope for. Seven wins in ten games. Two of three against the Evils. I was concerned when we started the trip that we could lose ground to the Sox, perhaps a lot of ground. But actually, over the trip, we gained a game. We came in up 6.5 and left up 7.5. I know Oakland and Seattle are hardly the most fearsome teams in baseball, but we have not done well on the West coast and in Boston. We went to three troublesome places and got 7 wins.
Sweet!